Our web technology
Visit our web technology center. All profits help veterans. 24/7 All American tech support free! We provide domain names, hosting of all types of web applications and websites. Perfect for professionals and do it yourselfers. Personal websites as low as $5.99 per month with free phone support! Use it for a wedding or even a small personal business website. Click here for an example.
Add your business free!
Add your business to our directory system for free! We are here to help American businesses get back on their feet. Want to try it out? Just log in with username demo and password demo. If you have a Facebook Business page, Yelp, or TripAdvisor web address we can import most if not all your details with one click!
Veterans giving back to America!
We Who Served helps veterans and businesses. If you are a business that would like to list for free, all we ask is you make a donation to your local Veteran or First Responder organization when you are able. 
Yes, it is really free, no catch and not kidding! We trust you.
New to the website?
Business owners Click Here if you are a business that wants to list your discount for free. Visitors can Register and create lists of your favorite businesses. Just click Save next to any business listing and add it to your personal list.ttings.
Why list your business?
First, you can show your patrons that you support Veterans and First Responders. All things being equal who would you rather support as a customer? Second, you get something free that other companies charge you for. A simple coupon mailed out in a Valpak can cost you hundreds or thousands for a one-time mailing!
How do I let customers know?
Add a link from your website and Social Media account to your listing. Your listing has a "permanent" web address. Copy and paste it into your website or Social Media or ask your web developer.
Display a sign on your business door. Order direct by clicking here.
Create your own sign based on our logo. Click here for a printable logo that you can resize.
If you want to order your own personalized discount key tags like the one below use our contact form. Made in the USA 500 (minimum order) personalized key tags for $250. We know this might not be practical now but keep it in mind for the future when the economy recovers. Every dollar counts and we are with you no matter what!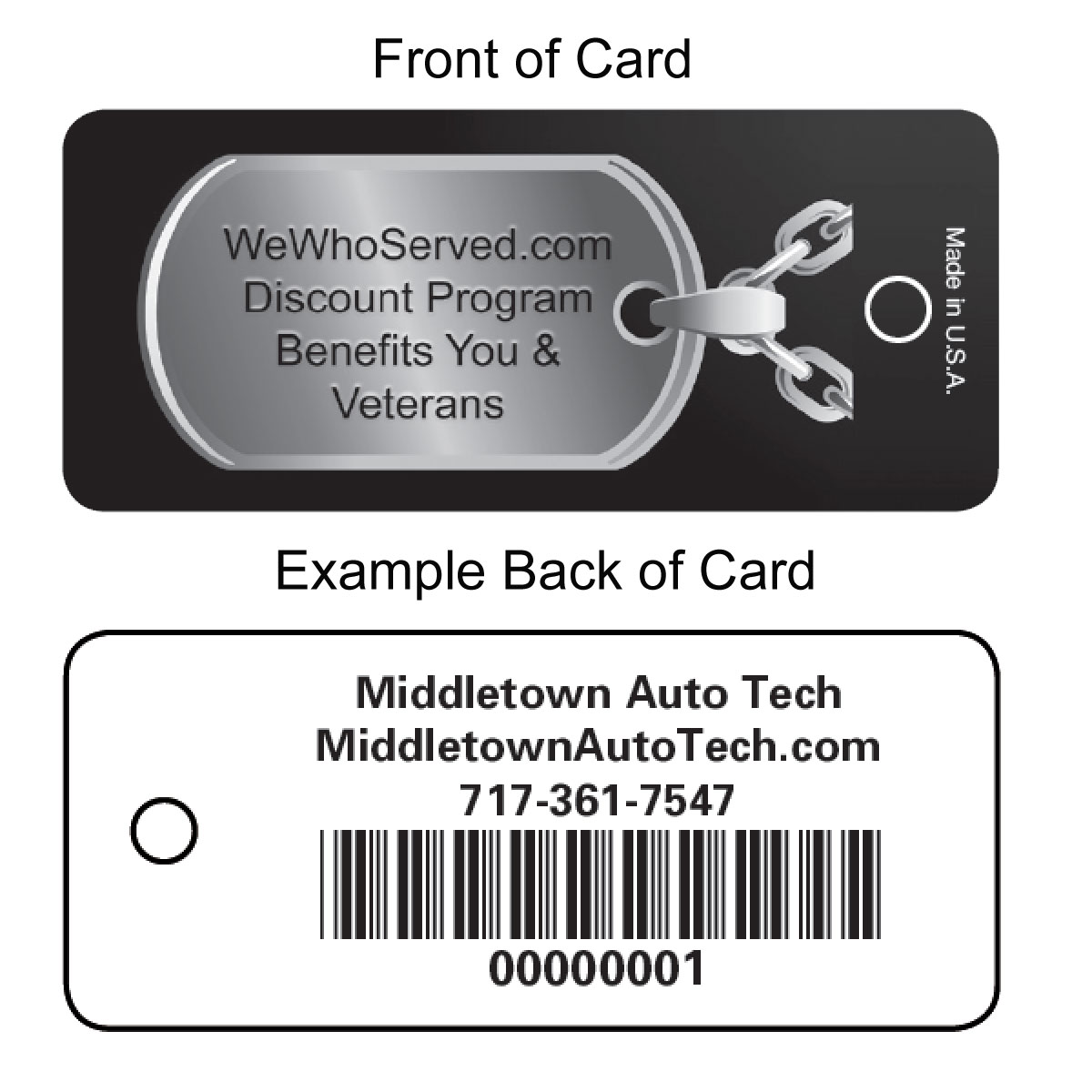 How is this free?
Right now we are self-supported. We pay all our own server fees and software licensing. Over time we do hope to bring on more supporters to grow our services for Veteran and First Responder causes.
How do I get my discount as a site visitor?
Simply show the offer on your smartphone.
If you have a We Who Served discount key tag you can present it to any participating business regardless of where you received it and regardless of the business name on the key tag.
Our affiliated websites:
WeWhoServed.net is our technology website. We currently have 24/7 All-American technical support staff to serve your business. We provide website hosting, domain names, spam-resistant personal and business level email plans and even the latest VPS and Dedicated servers! We also provide training materials on website development. We also have the ability to hold online training sessions by remotely connecting computers.
WeWhoServed.org is our veteran-centric website that is like Facebook. As it grows you will be able to send friend requests to veterans in your area that have similar interests. Reducing homelessness and veteran suicide is the main goal. Unlike Facebook it is private and we are not selling your information!
WeWhoServed.us is our VSO website. Coming soon.
A brief history
Brief History:
The original idea was to help veterans returning from the Global War on Terror. The idea was started by Mike Kelly, a retired Air Force Master Sergeant who served 23 years retiring in November 2002. Air Force retirement is not enough to support most enlisted members. Mike opened a website development and business consulting company in 2003.
In 2020 the COVID 19 epidemic hit. Seeing the need to get America back on its feet the focus shifted to make this website completely free to any American business with a focus on small businesses. We are now connected with many like-minded veterans across the United States.
The Future:
While the website hosting, maintenance, upkeep, and support is free the costs are going to grow. We will take donations to keep this project moving forward. However, MSgt Kelly believes the economy will recover and business owners will be able to provide enough small donations to keep it running.